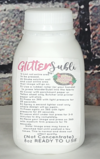 GlitterSubli
SOLD IN STORE ONLY
Get the same great quality results as our original formula, but with glitter!
A super simple, non-toxic fabric spray to use on items that are not 100% polyester. GlitterSubli is non-toxic, VOC free, and has been rigorously tested for quality and safety. 
Useful Tips:
Scorching is inevitable with any fabric spray of this kind, especially if using it on bleached shirts. Keep a bottle of peroxide and water mixture on your pressing station and spray each design as it comes off the press. The scorching should go away as it dries. If it's stubborn and does not go completely away, spray with peroxide and water one more time and lay under a hot press (do not press) for 1 to 2 minutes and then allow to completely air dry. Any longer under the press will start to think fabric and you could get holes.
If you find that your scorching isn't coming out after taking all the precautions above, it is most likely one of two things. You aren't using enough layers of protection between your shirt and upper heat platen. We recommend 5 layers total; blowout paper, parchment paper, heat resistant sheet, and butcher paper, in that order. That should take care of it. If it doesn't, your press is getting hotter than it's reading and you can start by lowering your heat in 5-degree increments. If doing everything as recommended, your scorching should be minimal and easy to remedy.
Do not forget to adjust pressure up and down when pressing WanderSubli vs. pressing your transfers. Forgetting to do this will not affect the result but will make your press lines more visible and could exacerbate scorching.
Tear (don't cut) around your image. This helps it to not have harsh lines on your shirt around the design.
You will need to use a cotton t-shirt or some sort of thin cotton cloth on the bottom platen of your press over the press pads or pillow that are already there. This is to absorb the excess moisture from the WanderSubli. We've gotten in the habit of just leaving it there all the time now. We also recommend removing the press pads on your bottom platen when you are finished pressing and wiping away any moisture trapped under them and letting the pads air out.
If your transfer paper is sticking to the shirt excessively after pressing that indicates that the shirt did not get dry enough after applying and pressing the WanderSubli. The shirt needs to be totally dry before pressing your image.
You may notice that your image area has a slightly stiff or starched feeling to it. This is normal and will dissipate after the first wash. Please follow the care instructions below.
It is important to run warm water through your sprayer before letting it sit for long periods without use or you could get clogs. If this happens, remove the plastic tube from the sprayer and use a toothpick inside the sprayer head to clear the clog. You can also take off the spray nozzle tip and clean inside the sprayer with a toothpick. If you purchased GlitterSubli this is especially important!!!
Follow all other usual steps and precautions you usually follow while sublimating (lint rolling, lining up your image, placing parchment paper inside the shirt when you press the image, etc.)
Join the Wanderlust Designs fb group for more support and to share your results. www.facebook.com/groups/homeofwandersubli.
 GlitterSubli:
We think GlitterSubli looks best in the designs area of the shirt, although you can absolutely cover the entire shirt with it for an all over shimmer effect. If you choose to do this, even the areas without a design need to be pressed exactly like our original formula, including the final step for 65 seconds, but of course without the sublimation.
Each color glitter is made up of a variety of different shades naturally. This colored glitter particles that make the glitter it's unique and specific color don't have as much "shimmer" as the silver iridescent glitter particles throughout it. This is normal in the glitter world and we tested tons before deciding to go with the type and the colors we choose.
You may notice some loss of litter over time, but you should retain most of it over many washes.
Care Instructions:
Turn inside out
Machine wash on cold with mild detergent
No fabric softener
Dry on low/medium heat or hang dry
Do not dry clean
Iron inside out if needed
You may notice a starched feel to the design area. This is normal and helps your image stay brighter, longer. The feeling will go away after the first few washes.